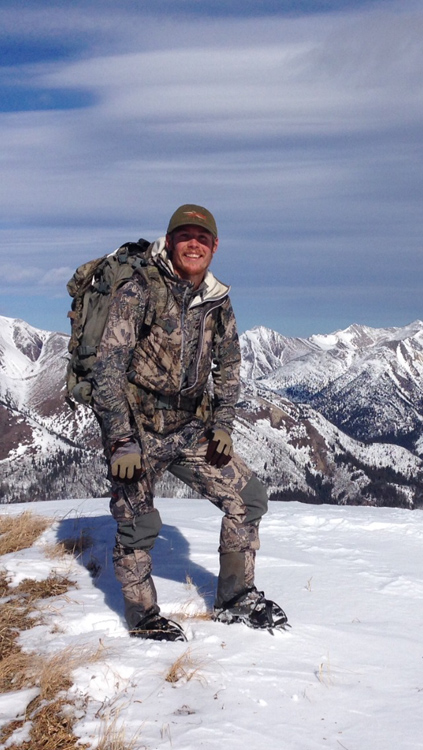 Dustin Roe (Owner/Outfitter)
My name is Dustin Roe and for the past 10 years I have been a professional guide specializing in high-end mountain hunts including Sheep, Grizzly and Goat but have also Outfitted and guided for Bison, Elk, Caribou, Moose, Brown Bear, Deer and Wolf.
I was born and grew up in the East Kootenay Region of BC. After my first year guiding in 2002, I knew I wanted to work in the Guide Outfitting industry and own my own area one day.
In the province of BC, law required you to be 19 years of age (18 now) to hold an Assistant Guides License, under special circumstances a person may apply for a permit from the BC government to guide under the regular age limit of 19. I was granted this permit at 18 and my guiding career started in 2002 where I worked in my family Outfitting business, hunting for Elk, Black bear, and both Mule and Whitetail Deer when time allowed from my Jr, Hockey schedule. In 2005 I ventured north to expand my knowledge of the industry and become a full time professional guide. I went to work for outfitter, Bryan Martin (Canadian Mountain Outfitters). That year I guided both Horseback and Backpack hunts with a 100% success rate for Stone Sheep, Mountain Goat, Grizzly, Caribou and Canadian Moose. It was amazing and forged my passion for this career path.
In 2006 I wrote my own Guide Outfitters License exam and was accepted as the youngest member ever to the Guide Outfitters Association of BC (GOABC). That year our family decided to expand our 2 areas in southern BC (Lost Dog, and Columbia Valley) to Northern B.C. by leasing another outfitting concession, thus giving our operation more variety to hunt including Stone Sheep and Free Range Bison.
In 2009 I was married to my beautiful wife Heather. Heather has specialised in the Customer Service, Banking and Bookkeeping end of things when we formed a new operation. "Backcountry BC and Beyond Ltd" was and still is partially a freelance guide service that allows me to lengthen my season and book hunts or guide year-round between Canada, Mexico and other countries including the USA and even New Zealand. Backcountry BC's business model was innovative and different than other conventional outfits but is a win-win-win to both the Outfitters we work with, myself, but most importantly our clients. It very quickly become a huge success and grew at a very fast rate over 9 successful years.
To date, at 33, I now own what was Cassiar Stone Outfitters in Northern BC, Backcountry Bighorns inc. (Alberta) and still run Backcountry BC and Beyond Ltd.'s business model as well. I have successfully guided in the NWT (North West Territories) for Dall Sheep, the Yukon for Stone Sheep, Alberta for Muledeer and Bighorn Sheep, BC for 14 different species, Mexico for Desert Sheep, New Zealand for Tahr, Chamois, Stag, and Alaska for both Black and Brown Bear. Since 2002, I have guided nearing two-hundred successful hunts, including more than 40 with bow and arrow, and as of November 2017… 118 Successful Sheep Hunts in total. I have guided or personally taken many trophy class animals, with 22 placing in the Boone & Crockett record book. I have also guided multiple 40 inch Dall Sheep, 40 inch Stones, 40 inch Bighorns and over 35 Pope and Young qualifying animals including 15 for 18 on Sheep with Archery equipment. Backcountry BC and Beyond has been fortunately hired to guide the coveted BC Premiers Auction Sheep Tag multiple times. We successfully guided the Current World Record P&Y Stone Sheep taken by Jim Hens. (179 3/8 Net P&Y - 181 SCI)
I am young, professional, hard working, enthusiastic and passionate about hunting, outfitting and preserving our hunting rights and freedoms. I am always trying to improve my business and will strive to be one of the leaders in the next generation of the outfitting industry moving forward. I will pride myself on hunting ethics, conservation and providing a top quality hunting and outdoor adventure for many years to come. I will be a team player and try my best to make everyone involved have the most enjoyable and exciting experience possible.
In July of 2017 I took over ownership of Cassiar Stone Outfitters and ran our first full season in collaboration. With the help of my team and the great Cassiar Stone guides, we had an amazing first year. We harvested 4 beautiful Rams (2 Gun , 2 Bow), 15 for 16 on Moose (5 over 200 B&C points and the smallest was 52" and largest was 220" (taken with a bow)) , and were 100% on Goat and Caribou also. We had a few minor hiccups with logistics, weather and resident hunters at 1 lake, but to be expected as we got acquainted with the new operation and all that it entails. All in all I couldn't have asked for a better first season. We look forward to years to come in this amazing place.
I wanted to give you a bit of an insight into my path and passion for the hunting business. It was a dedicated goal of mine for 13 years to own and operate an area with the quality of this one. With that said, I couldn't do what I'm doing without the people around me. I feel we have one of, if not, the best collection of guides in the business. These Guys work tirelessly, time after time to make your hunts successful and enjoyable, without them none of us could enjoy what we do… the way we do. Each and everyone that we have is qualified to lead you in pursuit for your game in a safe and professional manner and have the talent to make it all come together. On hunts I urge you to get to know your guide and take the time to teach him a thing or two also. I'm confident you will remain friends for years to come.
I want to thank all our past clients for trusting in me to provide a quality experience and look forward to the many more new friends we will make in years to come. I appreciate your business and will work hard to make "Cassiar" the best destination for true mountain hunts for the species we offer.